My oldest grandson is celebrating his 9th birthday this week.  How can that be possible?  It seems like it was just yesterday that I was changing his diapers, rocking him to sleep and spoiling him as much as I could!
He eats, drinks and sleeps basketball so he decided he wanted a basketball sleep over party with a few friends.  Thought I would share the invitation with you and also the clever envelope that my daughter, Laura, (Dooley Design Company) made for the invitation using a template she found on-line from Kelleigh Ratzlaff Design.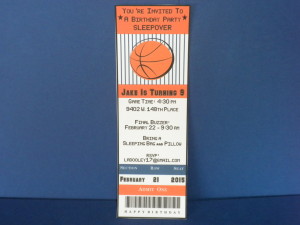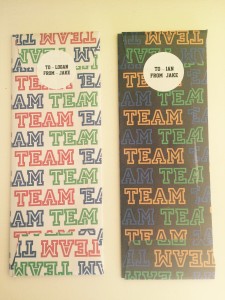 Laura found some great ideas for food and party decorations on Pinterest (so many it was hard to choose).  If you haven't visited this website, you need to – it is amazing!  I invite you to  follow Laura (Laura Slaughter Dooley) and me (Janis Slaughter) on Pinterest.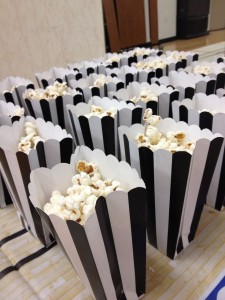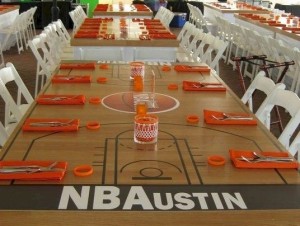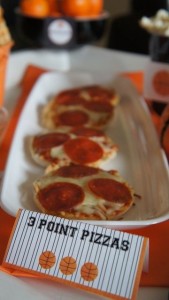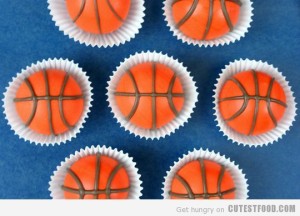 For my grandsons' birthdays, I usually try and wrap their presents using the themes that my daughter is using for their parties.  For this sports-theme birthday, I found navy blue wrapping paper at the 99 Cents Only Store and the basketball ribbon was purchased at Walmart.  I used orange curling ribbon to tie one of my basketball gift tags (found on my shop at JKSJKSDesign on Etsy) to the package.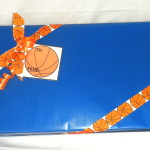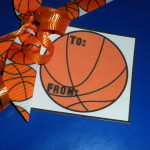 If you are thinking about a sports-theme birthday party, I hope Laura and I have been able to give you some ideas!    Check out  my shop on Etsy to see my invitations, favor bag tags, thank you's and even sports tic-tac toe games. Happy party planning – I know you will have a ball!