July 4 will be here soon – time to celebrate America!
July 4 is a time that family and friends get together with back yard cookouts, lots of good food and fireworks.  I found a few ideas that I think you might like when planning your Fourth of July get-together.
Red, white and blue bandanas have so many uses when decorating for a fun party.  Here is a great idea–stitch several of them together to make a fun table cover.  I found this idea on Etsy.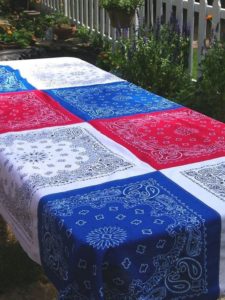 Why not add a Fourth of July Printable to each table.  Yellow Bliss Road has some great ones!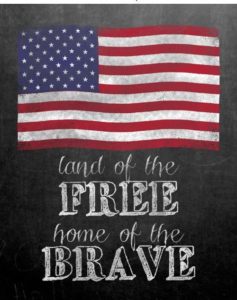 Also, look at this fun idea.  Put the utensils, bandana/napkin in a Mason jar.  Your guests will only need one hand to carry everything they need to get started on that great meal!  This was another fun idea I found on The Gardening Cook.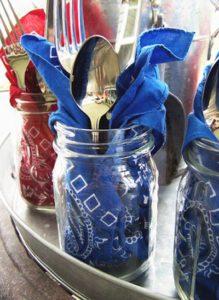 For that evening party, why not use a Mason jar, fill it with sand, a tealight and a small flag to shed some light on the night as you watch the fireworkds.  Thrifty Decor Chick has this idea on Pinterest.
.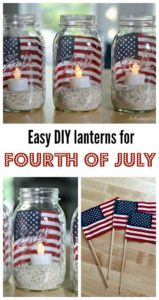 Want to change up your seating decor?  Why not use the red and blue bandanas to cover old pillows or cushions for your Fourth of July party?  Again, this was another great idea I found on At The Picket Fence..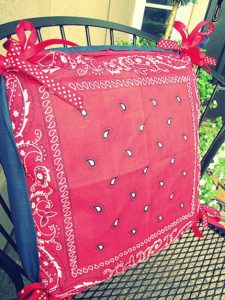 We can't forget the food!  Of course the usual hamburgers and hot dogs on the grill are a must.  For those health-conscious guests, they will love your "flag" fruit tray!  Family Fresh Meals has this idea on Pinterest.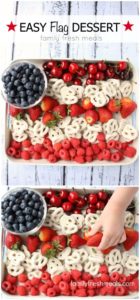 Don't forget the dessert!  There are lots to choose from, but I am sure the kids will love these decorated ice cream sandwiches and fun cupcakes from Fruetcake.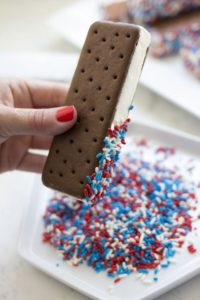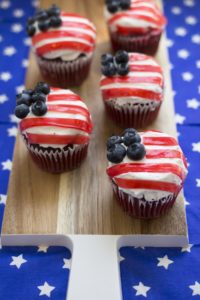 However you spend your 4th of July, I hope it is a good one for you, family and friends.  Be sure and give thanks for our great country and continue to pray for it!  God Bless America!!(