"Give Thanks With a Grateful Heart" is one of my favorite songs.
In fact, we sang it at church on Sunday as part of our Thanksgiving service.  Have you ever taken a piece of paper and pencil and started writing down the things you are thankful for?  I think you would be amazed at the long list you would come up with!   We have so many things to be thankful for, and at this special time of year I hope you will stop and give thanks before enjoying your Thanksgiving dinner with family and friends.
While making my Thanksgiving cards this year, I found this clip art which I used in one of my cards.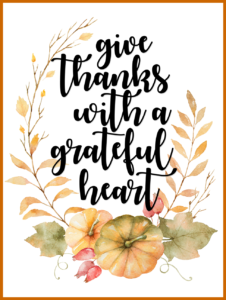 As part of the Thanksgiving celebration, the Thanksgiving dinner is always such a special event – one to be thankful for especially when sharing it with family and friends.  While going through my recipes for Thanksgiving dishes, I found a recipe for Pumpkin Bars that I have had, and made, for many, many years.  I thought I would share it with you as it is a GREAT recipe.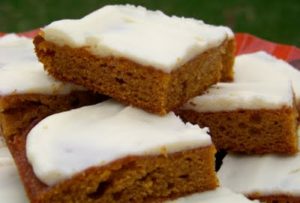 Ingredients:  2 cups sugar; 4 eggs; 1 cup oil; 2 cups pumpkin; 2 cups flour; 2 teaspoons cinnamon; 2 teaspoons brown sugar; 1 teaspoon soda; 1/2 teaspoon salt; 1 cup nuts (if desired).
Directions:  Beat eggs, sugar and oil.  Add pumpkin.  Sift dry ingredients and add to creamed mixture.  Add nuts, if desired.  Grease and flour pans.  Bake in two (2) 9 x 13 pans or one (1) large cookie sheet at 350 degrees for 25 minutes.
When cool, frost using 3/4 stick (6 tablespoons) butter/margarine; 1 – 3 oz. package creamed cheese, 1 tablespoon cream or milk and 1 3/4 cup powdered sugar.
Note:  This recipe can be cut in half–making one (1) 9 x 13 pan of bars.  Enjoy!!
~  HAPPY THANKSGIVING TO YOU AND YOURS!  ~