A couple of weeks ago I wrote about my oldest grandson's upcoming 9th birthday party sleepover.  I thought I would now write a follow-up story since the basketball-theme birthday party was a real success!  I also wanted to share with you the ideas that my daughter, Laura,  (Dooley Design Company) used for the birthday celebration.  Some of the ideas she found on Pinterest, and I spotlighted them in the earlier post.
The boys enjoyed pizza (of course), and Laura decorated the table using kraft paper to resemble a basketball court with the birthday boy's name at the head of the table.  Plates, napkins and drink bottles carried out the basketball theme.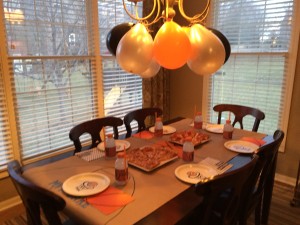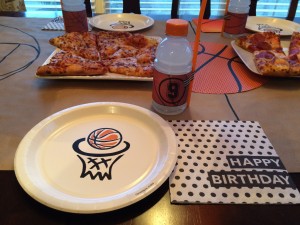 Drink bottle labels, printed with a "9" on them, were made by JKSJKSDesign.  Straws were attached to the bottles using black and white striped Washi tape.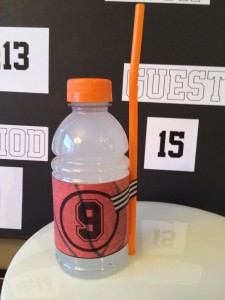 Laura made a "scoreboard" and put it above the dessert cart.  Cupcakes were frosted with orange frosting, and "I Love Basketball" cupcake toppers found at Michaels added the finishing touch!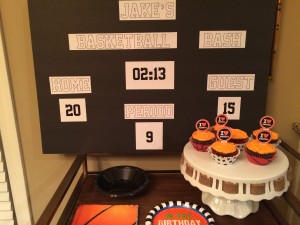 Later on in the evening, the boys played games, including a round of basketball (surprise!), watched videos and snacked on popcorn and other goodies.  Laura purchased black and white striped bags for the popcorn from Party City.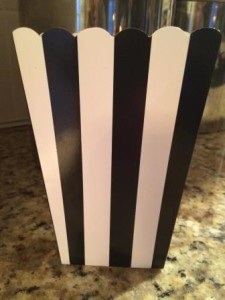 The following morning, the boys were each given a "gym bag" to take home with them.  The bag contained a basketball sugar cookie ordered from Price Chopper and other goodies.    I do not have a picture of the cookie, but Nana, one of my Etsy clients sent me a picture of the cookies she had for her son's birthday party.  She had ordered my Sports Birthday Party Small Round Favor Bag Tags and wanted me to see how everything turned out.  Thanks, Nana!  The personalized "gym bag" labels were made by JKSJKSDesign.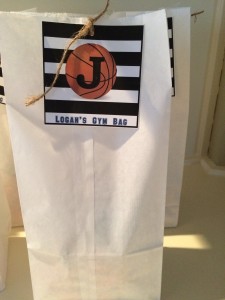 Thanks, Laura, for doing such a great job on the party–from the planning to the end product!  Thanks, too, for sharing your pictures!