We celebrate Easter because it is a special time of year–a time when we all welcome the spring season (especially after a long winter) and a time when Christians rejoice in the resurrection of Jesus Christ.
I love to decorate for the various seasons and holidays.  I think this idea would make a great centerpiece for the dining room table, for that special area on the kitchen island or on an entry-way table.    Once again, I found this on Pinterest from lushhome and have pinned it on my Easter board (Janis Slaughter).

Here's a fun way to begin Easter morning – Silly Cinnabunnies from Betty Crocker.  The kids will love them!  I have also pinned this idea on my Easter board on Pinterest.
We all enjoy celebrating Easter with family and friends.  Kids love to get ready for the big day by decorating Easter eggs (a tradition dating back to at least the 13th Century) and to the arrival of the Easter bunny (which reportedly was introduced to America by German immigrants)
A tradition at our home was to always make a bunny cake for dessert for Easter dinner.  My daughter has carried on this tradition, and my grandsons have fun making this special cake.  I think they did a pretty good job, don't you?  If you would like to have the instructions for this bunny cake, let me know, and I will be glad to e-mail the directions to you.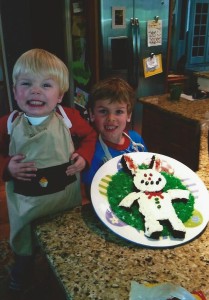 I hope you have a great Easter celebration!  I hope, too, that we all remember the reason why we celebrate this special day.  I found this subway art printable at A Night Owl, and I have it ready to display on my entry-way table.    Please feel free to visit me on Pinterest–this printable is also on my Easter board.