The big day is coming, and whether you are a Seahawks or a Patriots fan, it is always fun to get together with friends, watch the game and eat some good food!!  I have found some really good ideas for your Super Bowl party and wanted to share them with you.
Here's a cute way to display the utensils–and it seems easy to make!  I found this idea on Pinterest!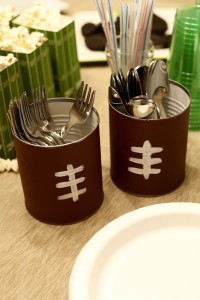 When it comes to the food, all kinds of sandwiches are good plus "pigs in a blanket" are always fun to make.  The other day I was making small sandwiches to take to a luncheon.  I used the Hawaiian rolls and made some with ham and cheese and some with turkey and cheese.  I made a pesto spread to go along with the sandwiches.  I made them "pretty" by putting a tomato on a fancy toothpick and inserted it into the sandwich.  Wish I could say it was my idea, but I can't–it came from one of my daughter's friends.  How cute would it be if you replaced the tomato with a football pick??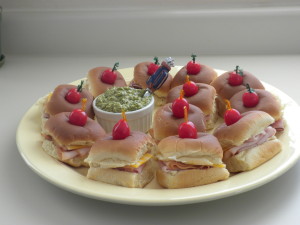 Better save some room for dessert!  Thought this was a cute idea – football brownies!  Found this idea on Pinterest at confettisunshineblog.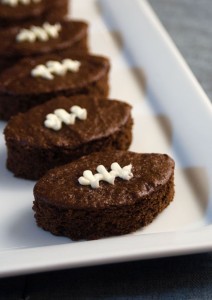 I pinned some other ideas on Pinterest so hope you will check them out – you can follow me on Pinterest at Janis Slaughter.  Here's hoping your Super Bowl Party is SUPER!!