Halloween care packages for my grandsons are always fun to prepare and send.
Because I do not live close to my grandsons during the winter season, I always try to send them a "care package" for the special holidays.  I recently sent them a Halloween care package so I thought I would share pictures and ideas with you.  I didn't want my daughter and son-in-law to feel left out (HA HA) so I put in a little something for them as well.
I found some really cute Halloween sacks at Walmart so that was my starting point as I gathered a few things together to put in their sacks.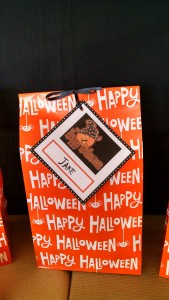 I found some activity books at Walgreens for two of the grandsons and found a Lego-like put together toy for the oldest grandson.  I also found some plastic Halloween cups and straws at the 99 Cent Store so those went in the care package as well.  Paper plates and napkins always come in handy at lunch time so I found some cute "trick or treat" plates with coordinating napkins at Walmart.  I love all of the "fun" pencils that are available for the various seasons and holidays.  I found some at Walmart–the two oldest boys can use them when they do their homework!
What kids don't like DVD's!  Scooby Doo is a favorite of the boys, and I found a good Halloween Scooby Doo DVD at Walgreens so that was wrapped separately and included in the care package.
I didn't forget the candy, but I made sure I didn't include too much!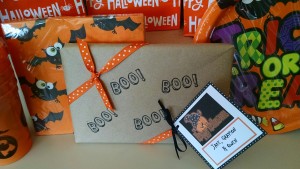 I made "trick or treat" tags for the bags, and I personalized each tag with each one's name on the tag.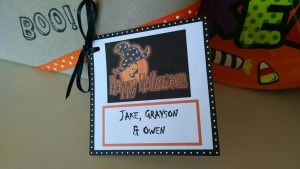 It was fun getting everything together–didn't spend alot of money but as they say, "it is the thought that counts".  The boys had fun opening the box when it arrived, each one finding his own sack and then looking inside to see what goodies Mamaw sent them!  I got a very nice telephone call thanking me for the "care package"–that made my day!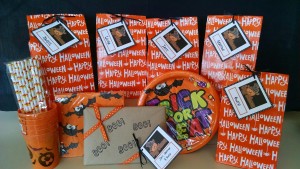 I'm looking forward to getting the next care package ready–probably for Thanksgiving!!