Christmas crafts for the kids – a great way for them to get involved in the Christmas holiday!
There are so many fun Christmas crafts for the kids to be doing even before the holiday gets here.  I have found several neat ideas that I want to share with you.  Some of these crafts can also be used as special presents for grandmas and grandpas, aunts and uncles and other members of the family.
I think the salt dough Christmas ornaments would make a great gift for grandma and grandpa–one that they will cherish and keep on their Christmas tree for a long time!  Crafty Morning has a fingerprint snowman Christmas ornament that is really cute.  I also found a hand print Santa keepsake ornament from  ABCs to ACTs.  Both would make great presents from the kids.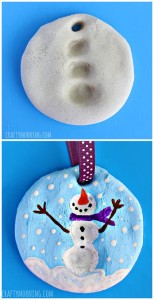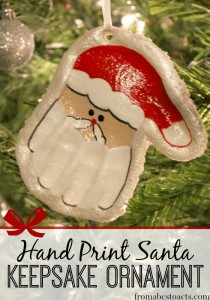 Hand-made ornaments are also a great craft idea for the kids.  Not only will they be "memory" ornaments for your tree, but they would make great gifts as well.  I found these paper plate Christmas ornaments from Crafty Morning.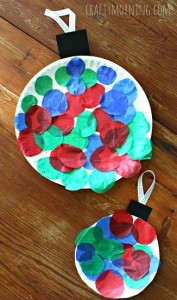 These paper straw Christmas tree ornaments from Simple as That (idea given by Crafts by Courtney) would be a fun craft for the kids to make.  I have seen so many colorful Christmas straws lately at Walmart, Michaels, etc., so it wouldn't be hard to find these.   Once again, they could put them on their tree or give them as gifts.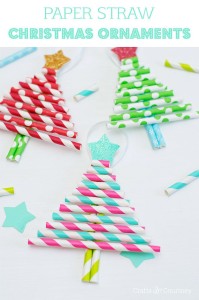 I think this Dish Brush Christmas Wreath craft for kids is really cute!!!  Wouldn't it be a neat idea for the kids to make this, sign it and date it and then frame it as a gift for a special family member???  You could even put a picture of the kids in the center of the wreath!  Once again, I found this idea at Crafty Morning.
How fun would this Fingerprint Christmas Lights picture be for the kids to make!  Michelle at Crafty Morning has this idea on her website.  This picture could either be framed, as with the Dish Brush Christmas Wreath, or the kids could make it in a smaller size as a greeting card!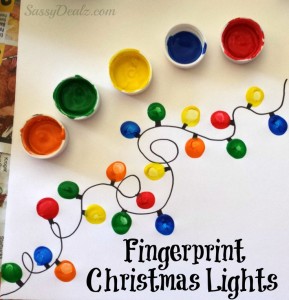 I have pinned all of these ideas on my Christmas Crafts and Gifts board on Pinterest (Janis Slaughter). I hope I have been able to give you some great ideas for your kids.  Better get busy and start working on these right now as Christmas will be here before we know it!!  Happy Crafting!!!