My sister, Patty, is an interior decorator (Patty Carlson Mehelic), and she has been kind enough to start sharing some of her "before" and "after" decorating projects with us.  This week's blog showcases an "elegant music room" which she did for a client.  The client and her nine-year old daughter BOTH wanted to start taking piano lessons.  So…..
The client purchased a grand piano and placed it in the room that used to be the formal dining room.  She wanted an elegant look for the room so Patty started with a "glitzy" gold and crystal chandelier.  This chandelier was the jumping off point for the room re-do!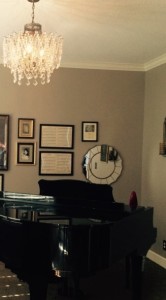 Patty enlisted the help of my daughter, Laura.  They decided to accessorize in blacks and golds to tie in with the black piano and the elegant look the client wanted.  The walls were painted Perfect Greige by Sherwin Williams.  A chair, small table, floor lamp and drapes were added to the room.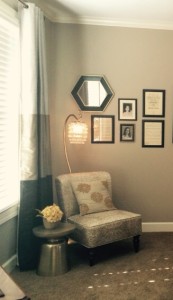 Mirrored candle sconces were hung on the opposite wall–the candles had the musical staff on them.  A framed print of the Bible verse from Ecclesiastes 3 was also included on this wall.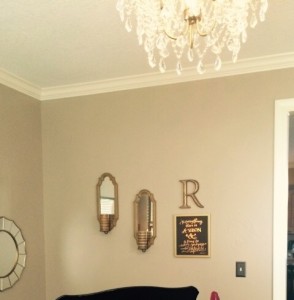 Old sheet music, belonging to the client's grandmother, was found, framed and hung on one wall.  Patty and Laura added assorted gold and black framed mirrors.  They framed pictures of the grandmother, the client's mother, the client herself and her daughter–the four generations of girls who play the piano.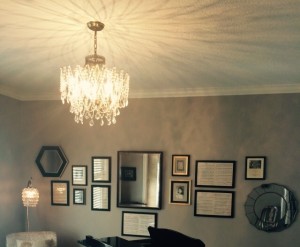 What fun to have such an elegant piano room!  What enjoyment there will be for the client and her daughter as they play the piano and are surrounded by such wonderful memories!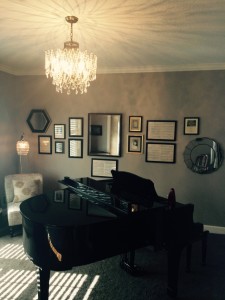 Great job, Patty and Laura.  The room is beautiful–thank you for sharing your designs with us!  We look forward to your next "before" and "after" project.