My sister's home says "Merry Christmas" inside and out!  Pat (Patty Carlson Mehelic) has been kind enough to send me some pictures of her home after she finished decorating it for Christmas.
Guests arrive at the front door of Pat's home to see lighted garland decorated with large ornaments over the doorway and lighted trees and lanterns on the porch, along with a lighted wreath on the front door.    Lights are strung in the tree and on the bushes along the sidewalk.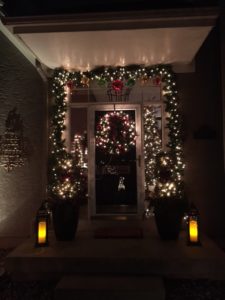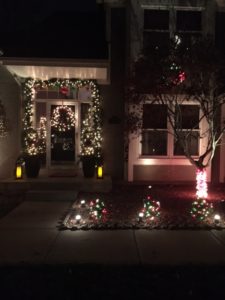 Entering the home, guests are greeted by an old-fashioned Santa Claus and a Christmas tree decorated in gold and bronze.  Greenery pieces are placed on each railing that leads to the upstairs of the home.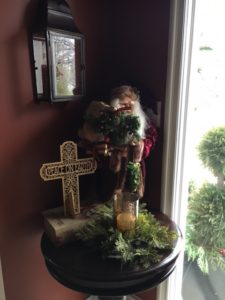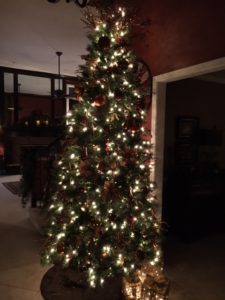 Pat has placed a swag on the inside of the front door so guests are greeted when they come in and when they go out!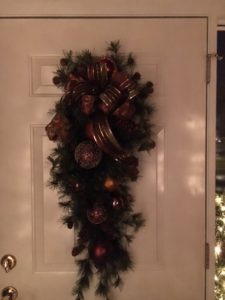 The china cabinet in the entry way is decorated with garland and lights, and the inside of the cabinet is full of villages, carolers, snow scenes and more!  Another old-fashioned Santa stands guard by the cabinet.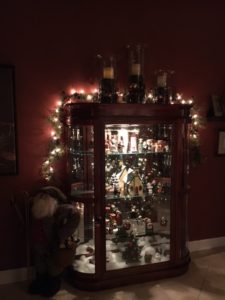 Pat's dining room table is set for company with gold magnolia leaves and burgundy decor gracing the table.  A lighted garland with gold/bronze poinsettias decorates the bombay chest.  A skinny Christmas tree adds a nice touch to the corner of the room.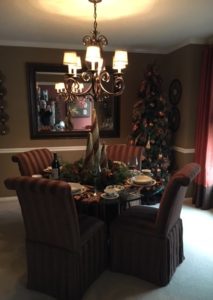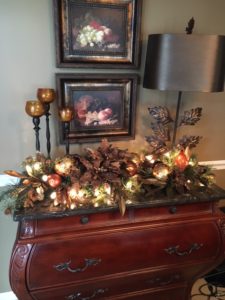 Lanterns and garland adorn the fireplace mantel in the living room.  The entertainment center is filled with nativity scenes, candles, Christmas trees and family Christmas pictures.  We can't forget that St. Lucia is also present on one of the shelves, reminding us of our Swedish heritage.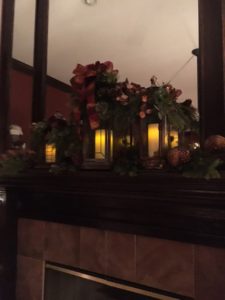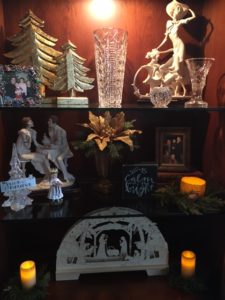 A large cylinder atop gold magnolia leaves is the centerpiece for the sofa table.  A small tree sits next to the table, and a picture of us "kiddos" in our younger years adds a touch of nostalgia to the scene.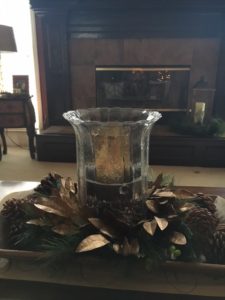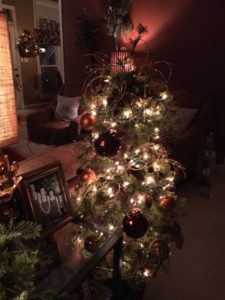 An Old St. Nick pillow is on one of the living room chairs, and wall sconces filled with Christmas greenery and decor are hung on the wall.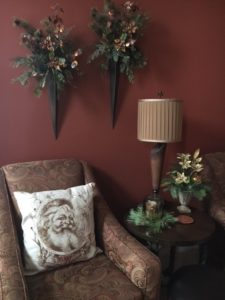 The master bedroom is even decorated!  Pat recently changed some of the bedding and decor in the room so the Christmas tree reflects the new colors of teal and browns.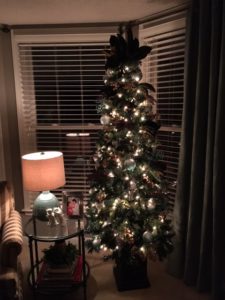 Pat's kitchen is pretty festive as well!  A lighted wreath adorns the wall next to the back door of the home.  "Believe" sits atop a window treatment, and apothecary jars filled with ornaments and surrounded by lighted garland sit atop kitchen cabinets.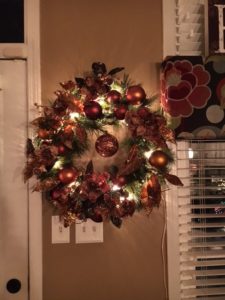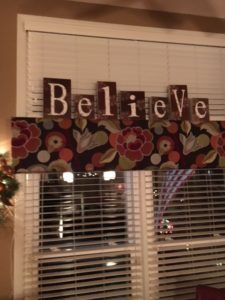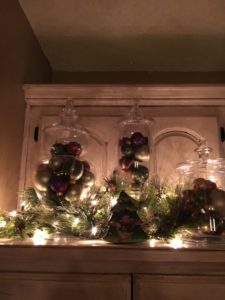 If you didn't know, or I forgot to tell you, my sister is an interior decorator!  So, all of the arrangements, garlands, swags, designs, etc., that you see in her home are made and created by her.  I hope you have enjoyed a peek inside my sister's home at Christmas.  I am so proud of her – what a great job!
MERRY CHRISTMAS TO EVERYONE!