Are you ready for Christmas?
My daughter and family are ready!  Laura has been busy decorating their home for the holidays and is sharing some of her decorating ideas with us!
The front porch has trees, trees and more trees!  Laura has placed several trees in different types of containers.  All are lit which makes a great looking porch at night.  This year she  has placed the lighted garland over the door and down one side .  I love the look of the sled on the side of the porch.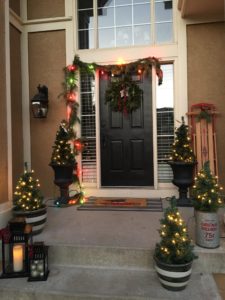 As you enter the home, a small lighted tree sits atop the corner table.  A "Joy" sign hung on the coat closet greets guests.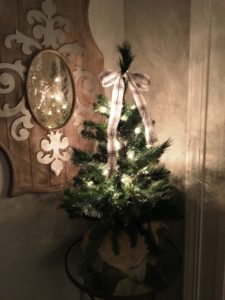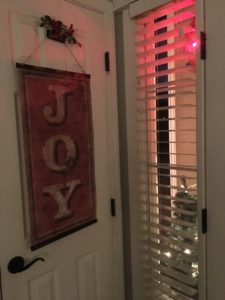 The entry table has brass candlesticks and greenery surrounding the lamp.  The pictures above the table always get changed out for the holidays with Christmas pictures from previous years.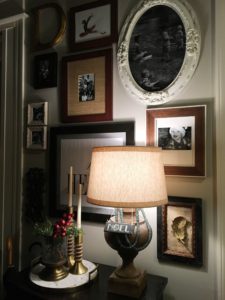 My daughter collects Nutcrackers so she keeps adding to her collection, and displays them on a mirrored tray on her dining room table.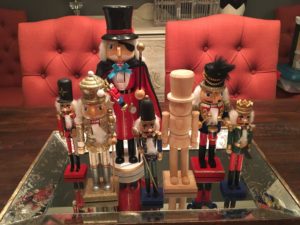 The fireplace mantel in the family room displays the "Joy to the World" banner.  A sign counting down the days until Christmas has been placed on the hearth.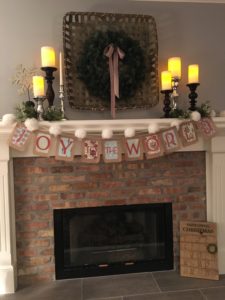 Laura has decorated the mantel with greenery and silver and wooden candlesticks.  She has placed a wreath in a large basket above the mantel.  (I like this look!)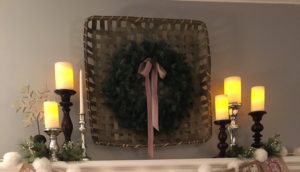 The chair on one side of the fireplace shows off a cute pillow (North Pole Toy Company), and both bookcases are decorated with Christmas pictures, a nativity scene, red and green ornaments and more!  "All is Calm, All is Bright" is the theme of one of the pillows on the sofa.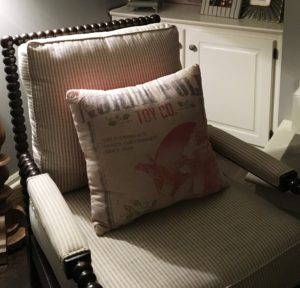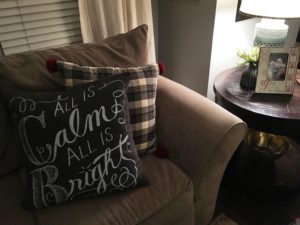 The Christmas tree is filled with ornaments–many collected when each boy was a baby and others representing special days/events in their lives.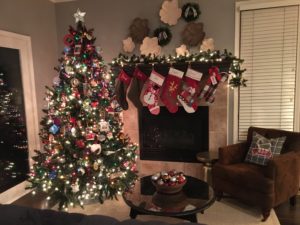 The mantel in the hearth room is draped with lighted garland and silver ornaments.  Stockings for each family member are hung on the mantel.  A new stocking was added this year, and it belongs to Bella, the family's new puppy!  I love the pillow on the chair and the bowl or ornaments on the table!
The window above the kitchen sink is adorned with a fresh wreath, and a great sign, "They followed the star".  St. Lucia (to honor our Swedish heritage), greenery in a brass container and a candle add the final touch to this area.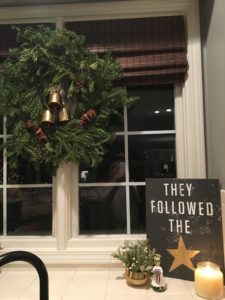 Even the powder room has been given a touch of Christmas with some greenery, a fun Christmas towel and Jolly Old St. Nick!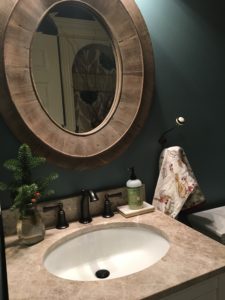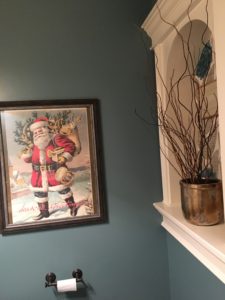 Thank you, Laura, for sharing your home with us during this Christmas season.
Merry Christmas to All!!