My youngest grandson turned FOUR years old a few weeks ago!!  One of his school friends was also having a birthday about the same time so the moms decided to have a "joint" Dr. Seuss birthday party with characters Thing 1 and Thing 2 highlighting the party.
The party was a bowling party–a fun time for four year olds!  Laura's friend made these cute t-shirts for the boys to wear!  She found Dr. Seuss material, cut out the number "4" for each shirt and then applied the number to the shirts. What a great idea!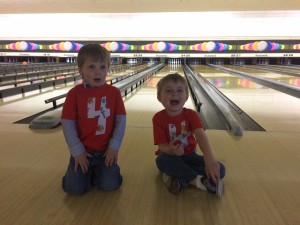 The special "party" room was decorated so after bowling was finished everyone gathered in this room for the birthday celebration.  To carry out the Thing 1 and Thing 2 theme, the moms found paper plates and napkins at Target and Walmart in red, teal and black and white striped.  Red and white striped wrapping paper was used as table runners on the tables.  Truffula trees, made by Laura's friend, were interspersed on the tables.  The staff at the bowling alley gave each birthday boy a bowling pin with his name on it and "Happy Birthday" written on the pins.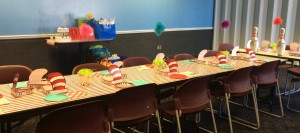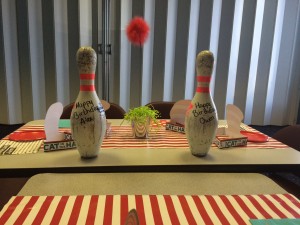 On Pinterest, Laura found the idea to put blue cotton candy on the top of cupcakes to make them look like the "hairdo" for Thing 1 and Thing 2.  I made the Thing 1 and Thing 2 round circles which were attached to each cupcake.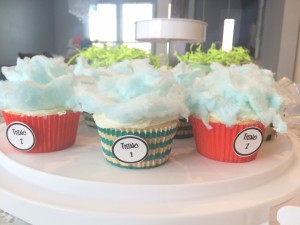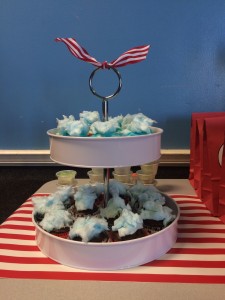 Red sacks, found at Walmart, were used for the favor bags.  I made the Thing 1 and Thing 2 large circles that went on one side of the bag.  On the other side of the bag I made the "thank you" tag.  The favor bags were filled with Dr. Seuss items found in the Dollar Spot at Target.  Each party guest also received a "cat in the hat" hat which the moms found at Michaels.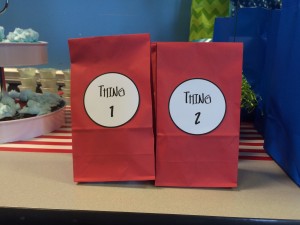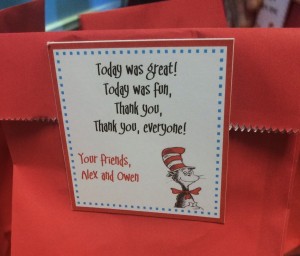 What a fun idea for a birthday party–and everyone had a great time!!  I made thank you's for the boys. I put each in a pdf file and then e-mailed the files to the moms so they could print off as many copies as they needed.  For more designs and styles of this type of  thank you, visit my shop, JKSJKSDesign, on Etsy.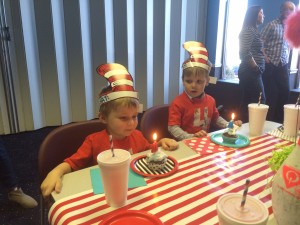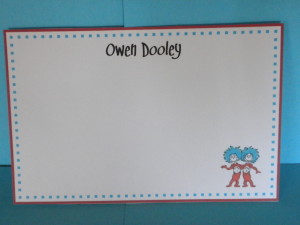 If you have birthday party ideas you would like to share, I would love to have you send them to me.