A home's entry says "Welcome to our Home".  It invites guests inside and reflects your style and personality.  My sister, Patty Carlson Mehelic, and my daughter, Laura Slaughter Dooley, are sharing four "before" and "after" entry way projects that they recently did for clients.
In this particular entry way "redo", the lonely black bench had been placed up against the wall and served no purpose.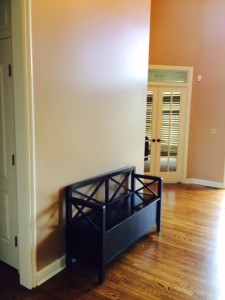 Patty and Laura replaced the bench with a chest (which offered storage), a lamp, mirrors, a lantern and an accent chair with a pillow.  The entry way now has a welcoming and elegant feel.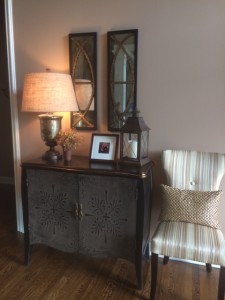 The second entry way  had a chest with a silver mirror.  The lamp (which was too small) and the mirror just weren't working with the client's cherry chest.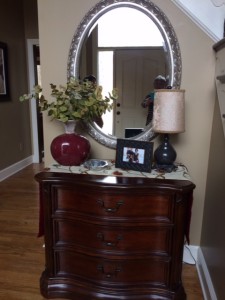 The client wanted to keep the chest so Patty and Laura created a focal wall using an assortment of mirrors, a clock, a wall candle holder and the client's initial to make the space more interesting. A lamp with a bronze beaded shade and a Mercury glass vase with greens added texture and interest.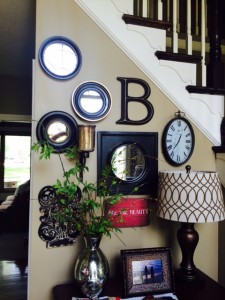 Patty and Laura's third entry way project centered around a black bench which the client wanted to keep for storage.  The client also wanted to feature a large family portrait in the entryway.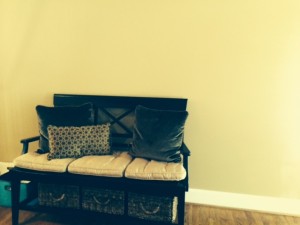 Using the portrait as a jumping off point, Patty and Laura added photos of the client's children, a wall lantern, a clock, the client's initial (for a personal touch) and small mirrors to "build out" from the portrait.  Colorful pillows were added to the bench to coordinate with the existing entry rug.  A side table with a lamp were added to make the space feel larger and more welcoming.l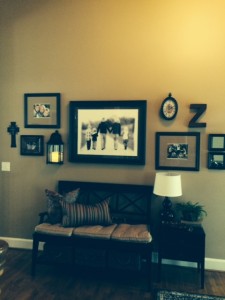 In the fourth "before" and "after" project, a red chest had been in the client's entryway.  The client wanted a different look so Patty moved the red chest to the kitchen to anchor the television on the wall.  Red print slipper chairs were placed on each side of the chest.  This picture show the red chest in the entry way before it was moved to the kitchen.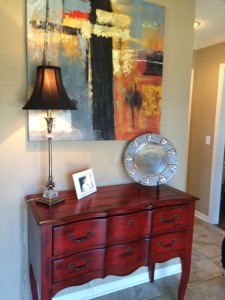 In the entry way, Patty used family photos, mirrors and Sid Dickens plaques that had been given to the client as a housewarming gift.  The entry was given a "personal" feel.  The gray distressed table, paired with a crystal lamp and candle sticks, added an unexpected element to the space.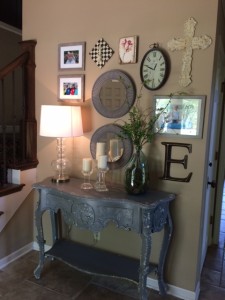 WOW!!  These "before" and "after" entry way projects are amazing!  Kudos to Patty and Laura for doing such a GREAT  job on these projects.  Thanks, too, for sharing these ideas with us!  We look forward to seeing your next projects!