2016 – a NEW year–a time to think about NEW decorating ideas, NEW projects and more around the home!  My sister, Patty Carlson Mehelic, has been doing a decorating project for one of her clients.
The client wanted a new bedroom sitting area!  I asked Patty to share this project with us so she has provided us with pictures and details about the project.  Patty said that the color inspiration for the new area was the client's bedding from Pottery Barn.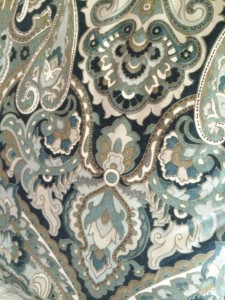 Here is a "before" picture of the sitting area – a blank slate to work with, right?  As Patty told me, "This space was crying for chairs!"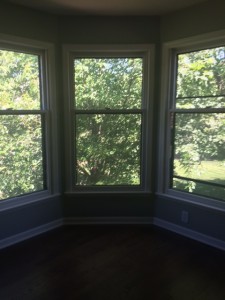 The homeowner had two chairs that had originally belonged to her mother.  The chairs were in good shape so Patty had them reupholstered, and as you can see—what a difference it made!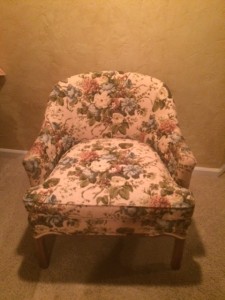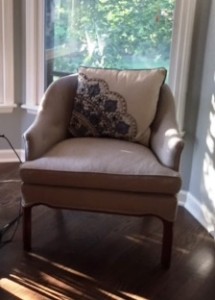 Patty found coordinating pillows which were added to the chairs.  (Great look!)  A nesting table and lamp were purchased and placed between the two chairs.  Woven wood blinds were installed on the windows.  The paint color Patty chose was Sherwin Williams 7058 Magnetic Gray.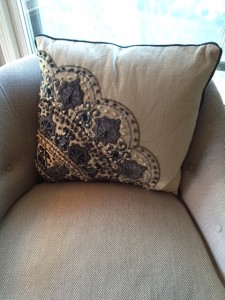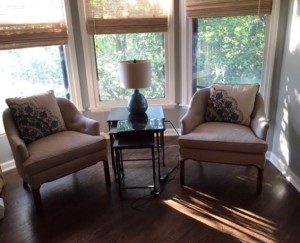 Drapery panels in a dark steel blue/gray color were added to frame the windows and to add a layering effect to the blinds.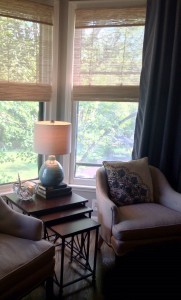 What a great transformation!  I would love to enjoy such a cozy sitting area!  Kudos to Patty for a beautiful job!  Thanks, too, for sharing this project with us.  Patty tells me she has two or three more projects in the works.  I can't wait to see them!  When I do, I will be sharing them with you.  Until then, Happy New Year and happy redecorating!