I love to look for new ideas in outdoor floral containers for spring.
The other day I received an e-mail from Better Homes and Gardens about this very idea (outdoor floral containers) so I thought I would share some of these spring floral containers with you.
I love to group pots together – I think it makes a great look.  You should try and vary the sizes of the pots when grouping them together.  In this particular idea, pansies, violas, lobelia, stock and kale were used in the pots.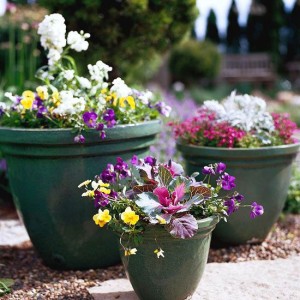 A single clay pot makes a great statement on your front porch, deck or patio.  Alternanthera "red thread" (A), million bells-Terra Cotta (B), summer snapdragon-Angelmist Deep Plum (C), and coleus "Blond Bombshell" (D) make up this attractive pot.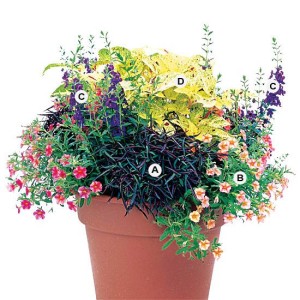 Grasses always add to a container arrangement.  Purple fountaingrass (A) has been used in this large pot, along with Sun Velvet Red coleus (B) , plectranthus-variegatus (C) , Dazzler Pink impatiens (D) and the licorice plant (E).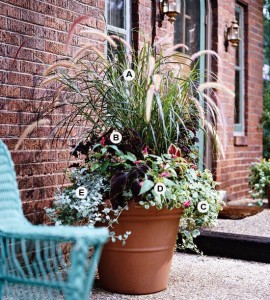 What about using baskets for spring flowers and plants?  Baskets would make a pretty addition to the table on your porch or patio.  This particular basket has eucalyptus (A) , heliotrope (B) , scented geranium-Attar of Roses (C) , lavender (D) , sweet alyssum (E) , plectranthus ciliatus-Vanilla Twist" (F) and lobelia erinus (G) .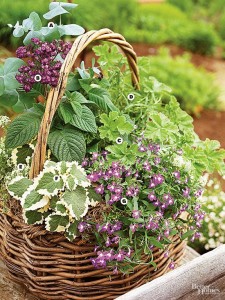 White begonias (A), browallia speciosa (B), Super Elfin Salmon Blush impatiens (C), lobelia erinus-Regatta Lilac (D) and hedera helix (E) make up the arrangement in this large basket.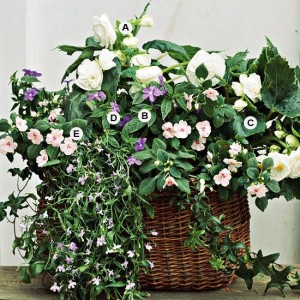 Outdoor plant stands also add a special touch to your front porch, deck or patio.  In this particular container, Victoria Blue salvia (A), Profusion Orange and Profusion Pink (B) zinnias, osteospermum "Symphony" (C) , sweet alyssum (D), sanvitalia (E) and Compact Blue lobelia erinus (F) have been planted in the basket.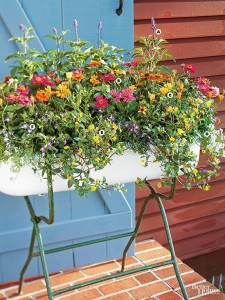 Do you have window boxes?  If so, here is a really pretty one!  "Blackie" sweet potato vine (A), licorice plant (B), Carpet Lilac petunias (C), Aztec Pink Magic verbena (D), Summer Wave Blue wishbone flower (E), Lady in Red salvia (F), Ramblin White (G) and Pink Daddy (H) petunias have all been put together for a great-looking window box.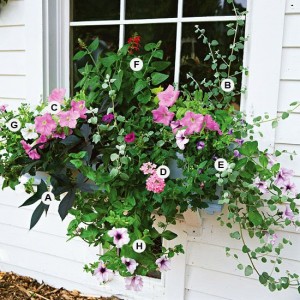 I hope I have given you some great ideas for your spring flower containers.  If you are like me, when I read about the various flowers in the different containers, I had not heard of some of the flowers.  I am curious about them so I think I will have to make a trip to the garden centers to see if I can find them!  I have posted all of these ideas on my board (Spring Outdoors) on Pinterest.
If you have some spring container arrangements that you would like to share, send me pictures!!!  Happy spring and happy planting!!!